❤️❤️❤️❤️❤️
"I wish every pattern had a class like this!"
- Regina Arlauckus, NY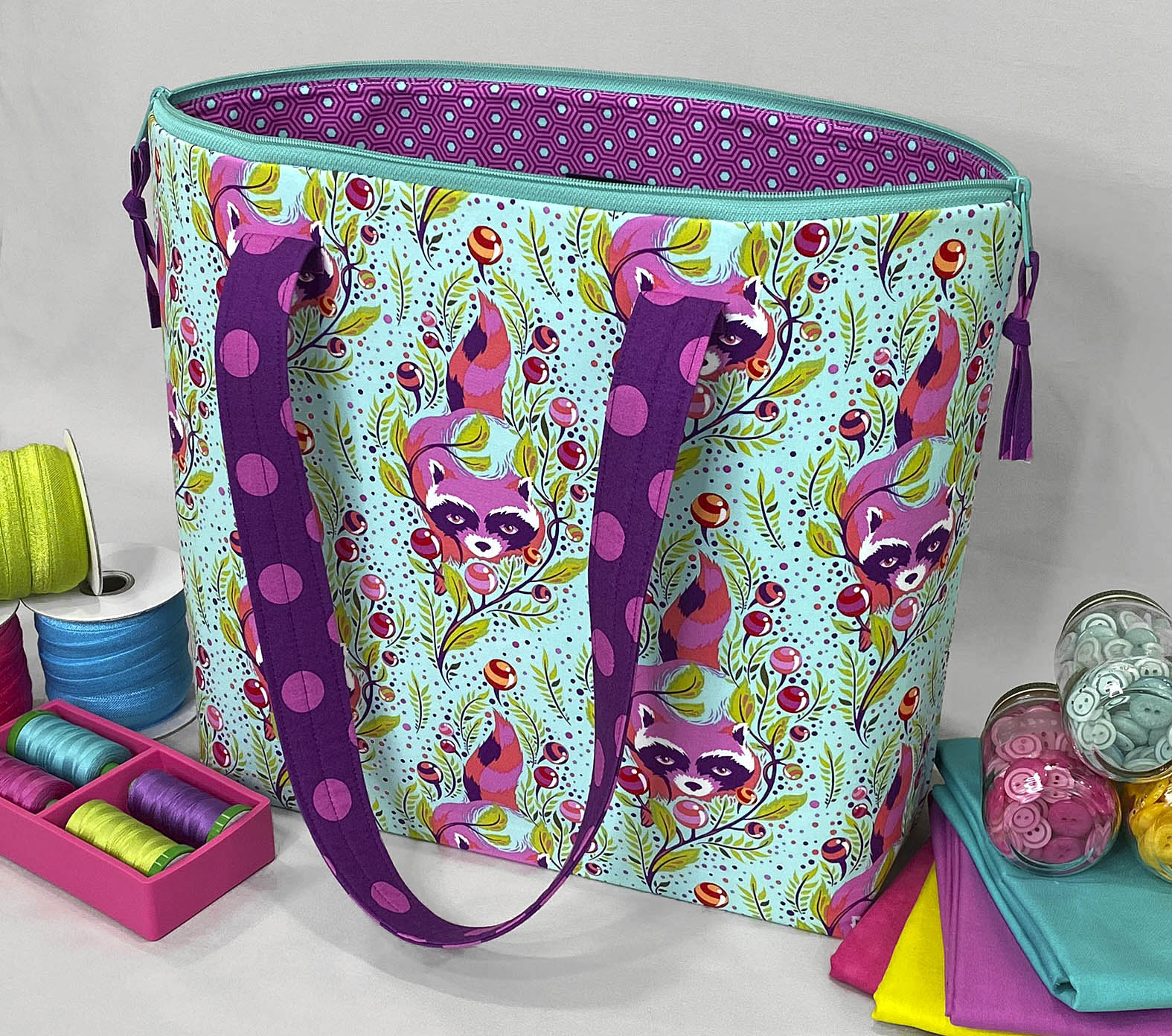 Harper Holdall
The perfect carryall for a day on the go!
Want to be a better bag maker and avoid costly mistakes?


Take the fear out of construction with Joan's simple techniques and construction tips to set you up for success.


Join Joan to avoid guesswork, frustration, and time consuming errors and become a better bag maker with this step-by-step video course.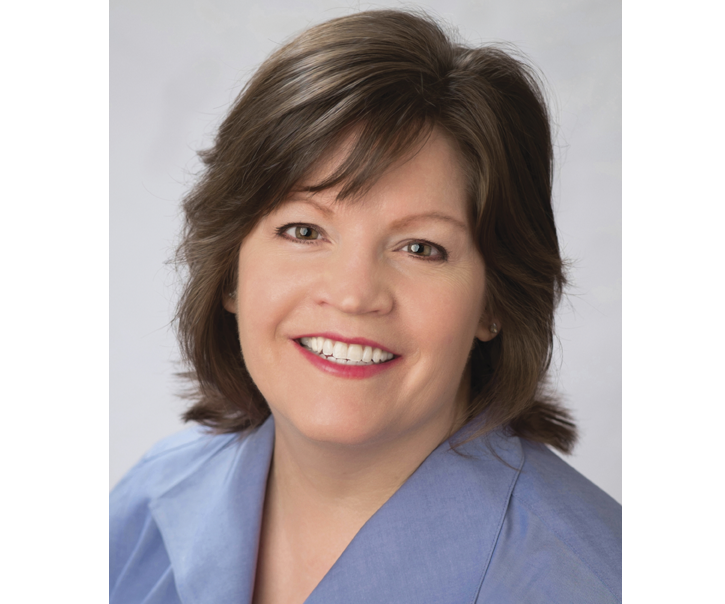 Joan Hawley
Your Instructor
I'm Joan Hawley, the creative force behind the top-selling Lazy Girl Designs pattern line.
Lazy Girl is all about finding the easiest way to successful fabric crafting with my lighthearted approach and easy techniques.
As for my concentration on bags…what can I say? Does a single perfect bag exist, or is perfection achieved through a collection of bags that meet all of our needs? I don't know. I guess since I'm still designing them for myself, my collection is incomplete. Or my definition of perfection changes over time. I have discovered that there's a little 'Lazy' in all of us.
I have fun with my designs and I hope you do, too.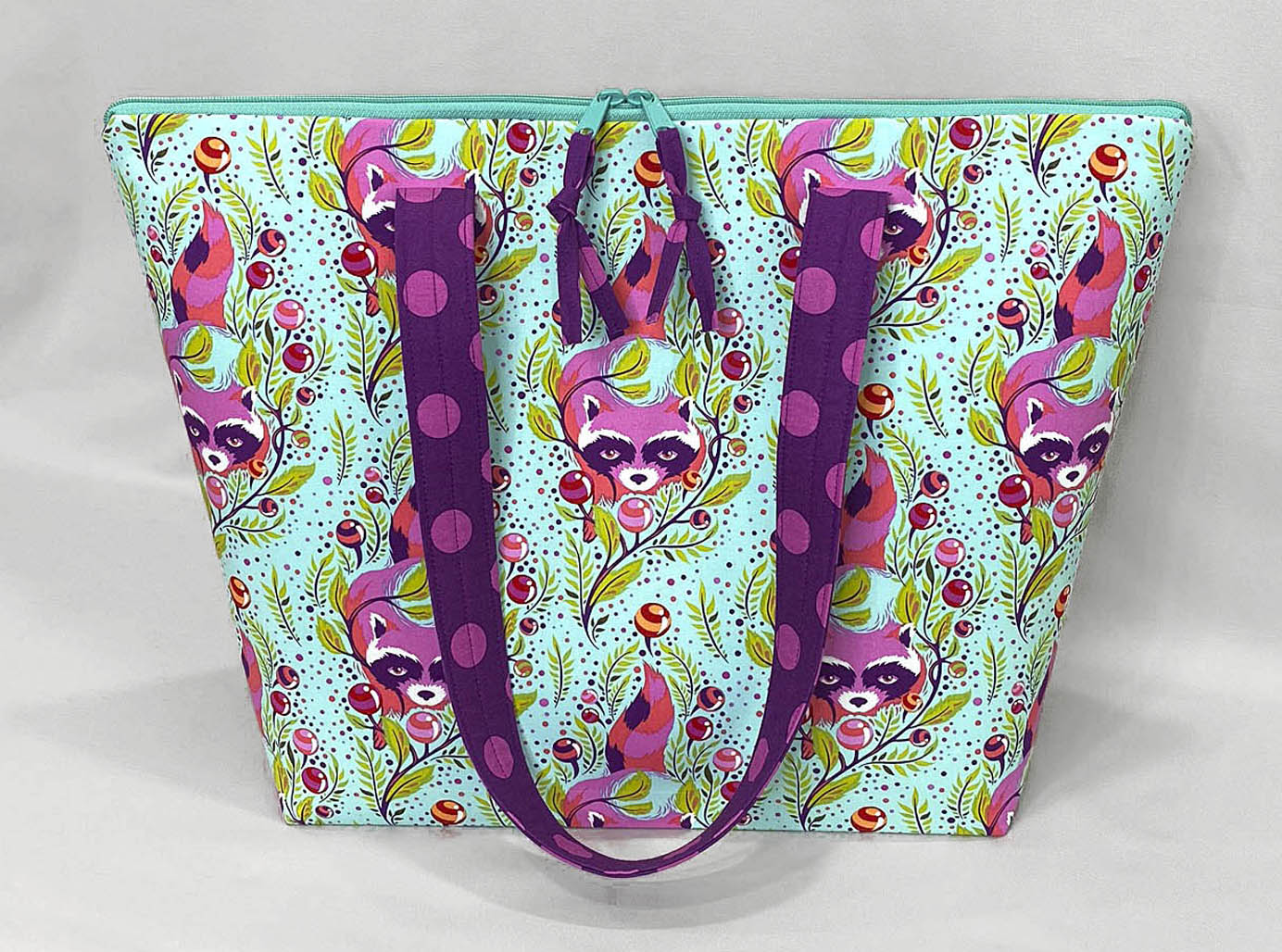 Sturdy Carryall with Zip Closure
The handy double-pull zipper opens from the middle of the bag.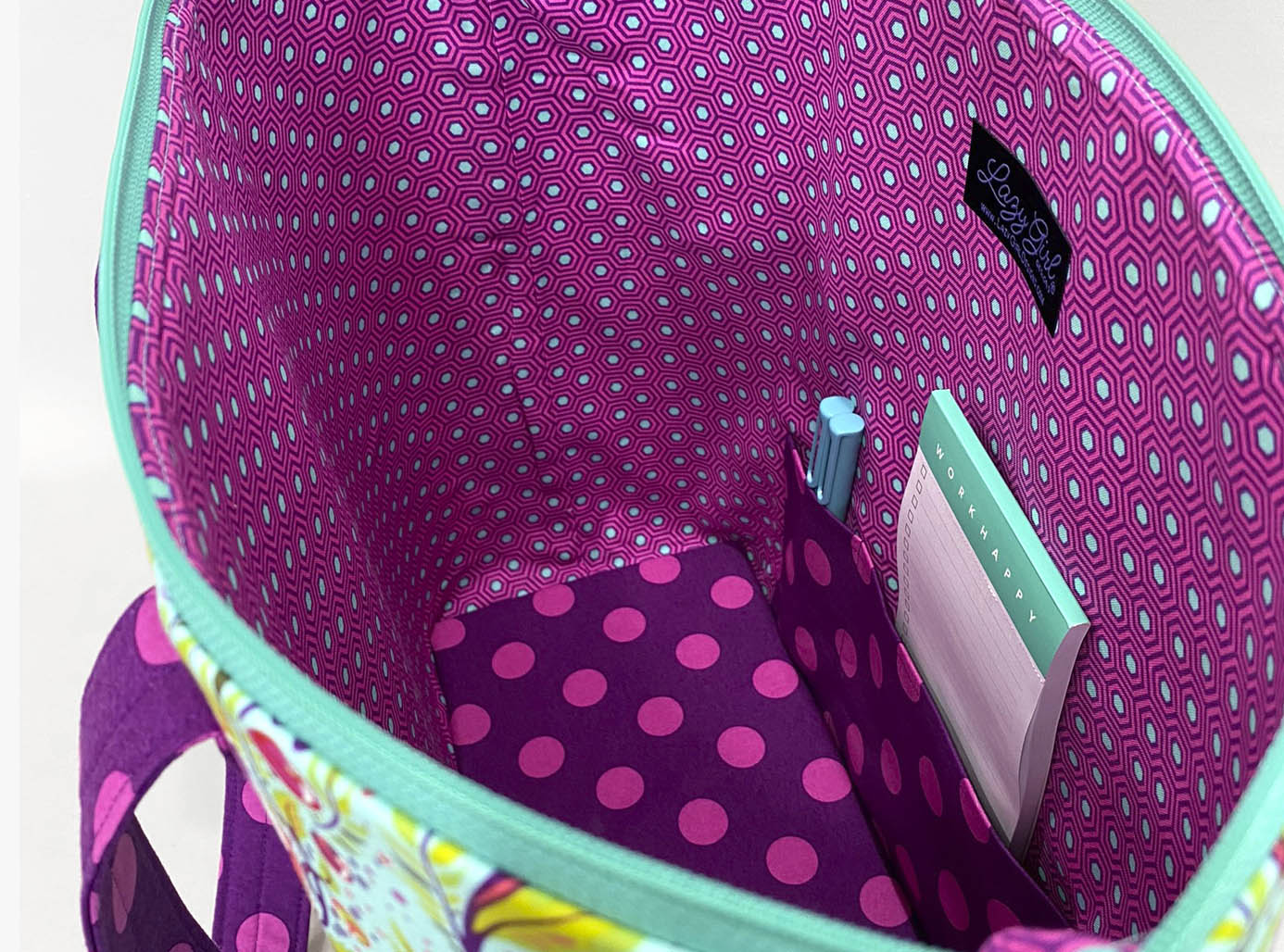 Opens Wide for Easy Access
Joan's unique zipper installation allows the bag to open wide. Bag features an inside pocket.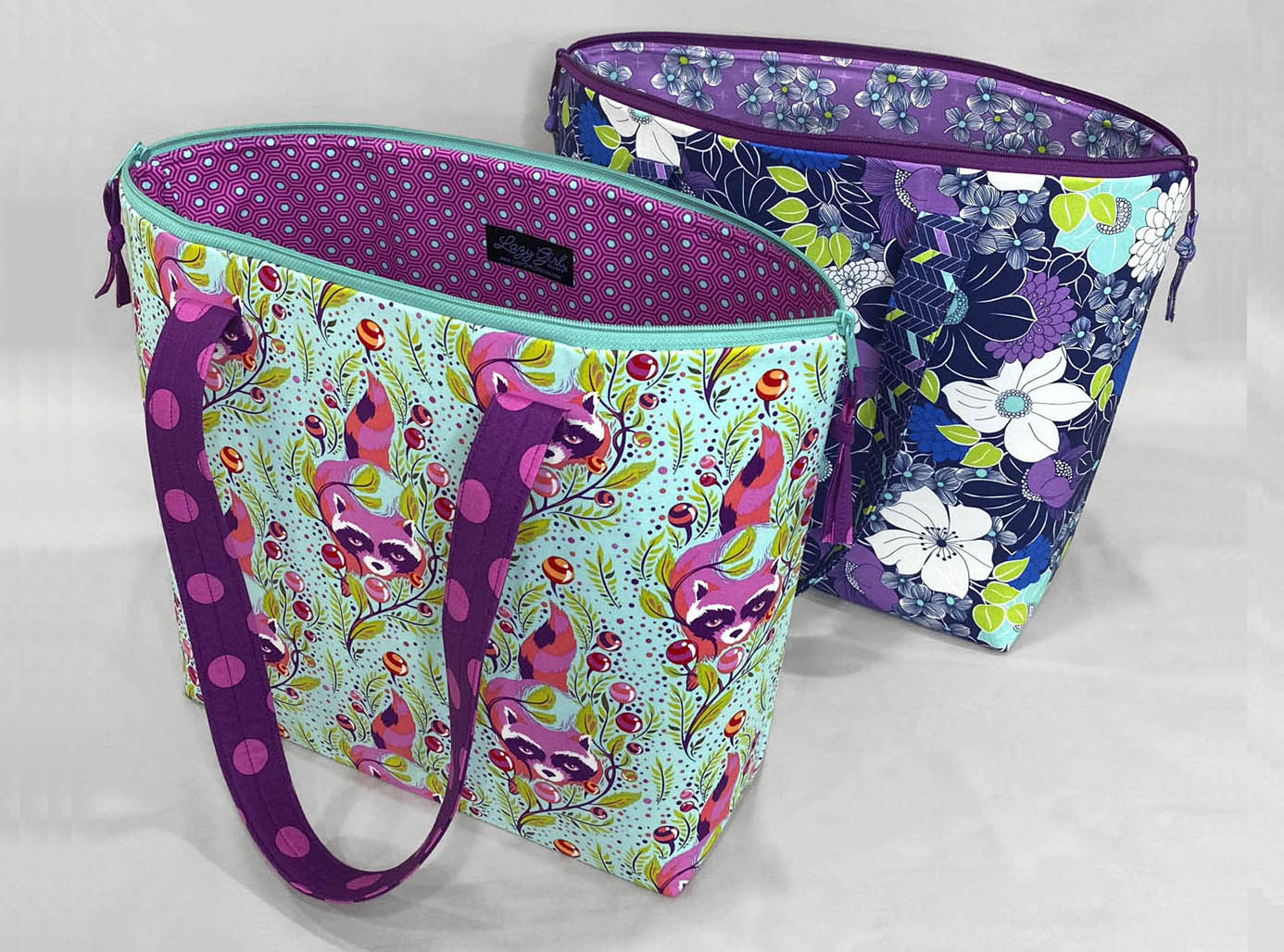 Stands Tall
Joan's amazing Stiff Stuff interfacing gives this bag incredible posture.
Learn These Bag-Making Skills
- Innovative zipper installation
- Conquer a double-pull purse zipper
- Fabric and zipper selection
- Step-by-step project management
- Presser feet and stitch settings
- Manage directional fabric for a perfect result
- Perfectly make crisp boxed corners.
NOTE:
Rotary cut project, no pattern pieces provided in the pattern.
Harper Holdall Curriculum
Preview the first video in Lesson 2 below.
What students are saying about this course...


❤️❤️❤️❤️❤️
"If you are unsure or hesitant in your sewing, this is a must have pattern and video instruction. You will be amazed at how fun and easy it is to make such a beautiful bag!"

- Anita Johnson, NC



❤️❤️❤️❤️❤️
"This class virtually eliminates the learning curve and "jitters". Thank you, Joan!"

- Nancy McHenry, PA



❤️❤️❤️❤️❤️
"I wish every pattern had a class like this!"

- Regina Arlauckus, NY



❤️❤️❤️❤️❤️
It's like Joan is right there with you in your sewing studio providing the perfect advice for each and every step.

-

Joan Ford, NY



Frequently Asked Questions
When can I take the class?
Join Joan in her studio to make the Harper Holdall bag now. Enroll to get started right away. Complete this course at your own pace, online via desktop/mobile, when it fits your schedule.
What access do I have to the class?
Grab a cup of coffee and sip a little, watch a little, and sew at your leisure. Your enrollment means this class is available to you with unlimited access on your schedule. Your enrollment does not expire and you can watch the videos as many times as you like. Watch the course in order or skip around.
Can I sample the class before purchasing?
Yes! Before purchasing, be sure to preview the first video in Lesson 2 in the Course Curriculum below to see the quality and detail covered in the class. Due to the digital nature of the content, enrollment is non-refundable.
What skills do I need for this class?
This class is perfect for the confident beginner and up: rotary cut and sew a straight line, plus a working knowledge of your sewing machine including needle position, stitch settings, and presser feet. This is a rotary cut project, no pattern pieces are provided.
What if I have questions or need help?
Joan is here with you each step of the way. Each lesson has a discussion area where you can ask questions, make comments, and post pics of your gorgeous Harper Holdall. Joan will answer questions a few times a week and your classmates can chime in, too.
What are the lessons like?
The class is a combination of video lessons and a bonus PDF version of the project pattern. Be sure to preview the first video in Lesson 2 of the course curriculum to get a feel for the class before enrolling. Joan's step-by-step instruction covers approximately 90 minutes of video lessons and covers expert tips for needle position, stitch length, construction tips, and final pressing for an amazing finish to your new favorite bag.
What supplies do I need for the class?
Harper uses three fabrics, Joan's Stiff Stuff interfacing for structure and Face-It Soft to reinforce fabrics. and a zipper. For the complete list of supplies and pattern recommendations: Harper Holdall Supplies
Still have questions?
Terms & Conditions
The Harper Holdall online course is for individual use only. The information in this course can not be taught to a group of any kind. Class content, including PDF files and videos, is protected by copyright and may not be shared. Due to the digital nature of the content, enrollment is non-refundable. Lazy Girl Designs reserves the right to use any material posted in class for marketing purposes. By purchasing this course you are agreeing to these Terms & Conditions.